The Magician's Apprentice
3rd June, 2016 @ 7:30 pm

-

10:00 pm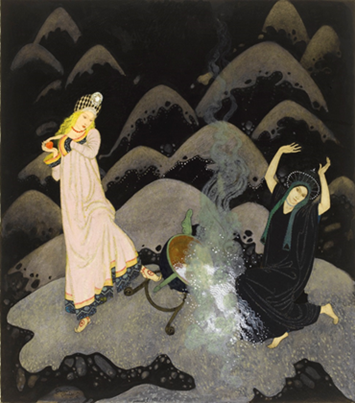 With Sally Pomme Clayton
Friday 3rd of June, 7.30pm
Cobalt Studio
10-16 Boyd St
Newcastle upon Tyne
Tyne and Wear
NE2 1AP 
What happens when magic goes wrong? Performance storyteller Sally Pomme Clayton rummages through hats and rabbits, smoke and mirrors, wands and tarot cards, searching for spells. She conjures powerful female magicians from fragments of Egyptian and Indian mythology, and summons-up a dazzling Russian fairytale. In this slight-of-hand world, meet foolish apprentices, crazy genies, and Mistress of magic Elena the Wise. Here girls become doves, objects speak, the magician goes mad, and you can enter another world! These captivating adult stories are witty, deliciously mysterious, haunting and dark. Sally Pomme brings stories to life.
"Some people are born to entertain. It's a special kind of magic. Sally Pomme Clayton has that magic in plenty – she is a dream-weaver, a spell-binder." The Londonist
Sally Pomme Clayton casts a shimmer of stories in The Magician's Apprentice. This intimate and enchanting performance takes the audience into the secret world of the magician. With a top hat from a junk shop and a mail- order wand, she opens the magician's suitcase, uncovering the cultural history of the tarot card, making luscious fairytales appear, and dark memories vanish! With a song on her mandolin, and a spotted handkerchief, she shifts from humour to horror, romance to rumour. Join her on this fairytale quest to discover what is real and what illusion, who is the apprentice and who the teacher – as she searches for real magic.
"Mistress of Magic, Speaker of Spells. A storming show from a queen of the spoken word at the height of her powers. A mixing and mingling of worlds, of eras and time-scales, of history and fantasy, with consummate ease and the lightest of touches. A subtle meditation on where the real magic truly lies." Jamie Crawford 2015
"Sally Pomme Clayton shared memories of her youth and search for magic, and stimulated by these 'memories' she told stories about magic taken from around the world. The spectator could not be sure if the memories were real, or fictions created to feed the stories! She explored: magicians as performers and their 'tricks' and illusions; tarot cards and their history and the meaning behind the pictures. She was smiley, twinkly and humorous – and I was engaged throughout, unaware of time, totally absorbed in her truly wonderful stories." Audience member, Soho Theatre, 2014.
"An amazing performance last night. I can't tell you how inspired and uplifted I felt when I left." Audience member, Soho Theatre, 2014.
£8 / £5  Concessions