Stepping Out with Ivanir Sibylla Hasson and Chris Bostock
September 4 @ 7:30 pm

-

9:30 pm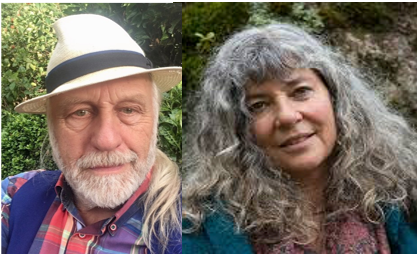 Stepping Out – The Singing Shoemaker and Other Stories
with Ivanir Sibylla Hasson and Chris Bostock
Ivanir hails from Norway tells from there The Singing Shoemaker – a traditional Jewish story from Lithuania as well a story of the farmer who took her goats to The Garden of Eden.
And Chris, a bit of a loafer, has cobbled together some soulful tales to set tongues wagging in his local brogue. So step up and join this pair of polished tellers sharing stories of transformations, dreaming and wonder.
Ivanir Sibylla Hasson is a Nordic storyteller living on a small farm in the Norwegian mountains. She is working in the Nordic / Baltic region and Internationally also as a creative storytelling teacher.  The connection to the mountain and nature are important sources of inspiration for her creative activities. In addition to being a performing artist and the artistic leader of the theatre group, Circus Sibylla.
Chris Bostock is a moon walker, principal dancer at the Royal Ballet, part time welder, dentist, sculptor, troglodyte, underwater balloon modeller, paleontologist, a liar and storyteller. Chris is a founder member of A Bit Crack – Storytelling and doesn't regret it.
This event is free to attend however please do make a small donation if you are able to – details for donating and for joining on Zoom coming soon…