Ramblings in the Mist – Michael and Wendy Dacre
6th August, 2021 @ 7:30 pm

-

9:00 pm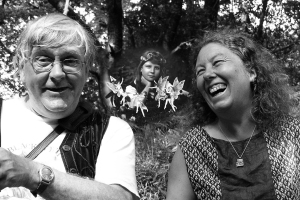 We are proud to present Storytelling royalty in the forms of Michael and Wendy Dacre.
Michael and Wendy Dacre have been telling and singing stories for a long time and are fascinated by other worlds and different dimensions.
Pressed for a title for the evening, we've been thinking…
'The Ever Young' by 'The Rather Old'? Maybe not. 'Rumours of Immortality' perhaps. 'The Fair Folk and Us' maybe. 'Celtic Stories of Timelessness, Other Worlds and Reincarnation'? 'Intimations of Immortality in Timeless Tales of Other Worlds'? Oh, you know what I mean! 'Ramblings in a Celtic Mist'.
So come and join us for Ramblings in the Mist, tales of the Fair Folk and their interaction with us ordinary mortals: 3 stories – Midir & Etain; Fionn & Sadbh and 'The Voyage of Bran, will sit well at Lammas-tide or Lunaghsa at the beginning of August, with late Summer and Harvest – reflecting on mortality and immortality.
We'll have short breaks in the evening to digest and maybe discuss the stories – they're deep – and hopefully we'll find some time at the end to chat as well.
Michael, the author of Devonshire Folk Tales, has also won fame by winning the dubious Hodja Cup – for Lying!  He is one of our wittiest, most articulate and lively tellers. Wendy is singer of great power who can stir the spirit as well as she can calm the restless mind – when she's not making puppets or inspiring others to tell visual stories.
As always, everyone is welcome to attend our events and there are no set ticket prices. For those of you with the means to pay, we rely on your donations to pay for the cost of putting on the evening, including paying our fabulous guest storytellers – this is after all how they earn their living! Please visit www.abitcrack.com and click on our donate button. This will take you to our funding page. Storytelling is a wonderful exchange of giving and receiving so if you can, please pay your part. A Bit Crack are eternally grateful for your ongoing support, without which we would not survive!
And finally, the link to join us on Zoom: https://us02web.zoom.us/j/83937144873?pwd=a0ZkVUdFSm1FV3FmQ0xqNi8wMlVjZz09
Meeting ID: 839 3714 4873
Passcode: 318749