The first part of the 'Tales of the Forgotten North' journey is completed. The four members of a Bit Crack Storytellers worked in five schools on five archaeological sites and created fictional stories for all of them. We then performed these stories in village halls, and on the land as a part of a journey across Northumberland.
Over a period of two weeks: We walked for 6 days accompanied by 20 adults from Holy Island to Rothbury. We cycled for five days, with a different group of children each day, from Ingram to Greenhead. We lead two story-walks (at Lordenshaws and Tarset Burn) and performed in five different venues…Phew!!!
Week One: The Walk
On June 29th our group gathered in a small field on the banks of the flats leading out to Holy Island. There were twenty two of us in total. Most of us were from the North East but we were joined by others coming from as far away as Iran, Norway and France.
Together we walked through nearly 70 miles of Northumberland landscape, from the coastal plains to the spine of the Cheviots. We crossed ancient meadows, climbed hills and bathed in rivers. All the while connecting with this land through evoking its ancient past, telling stories, writing verses, singing, laughing and above all silence.
We set up camp and rested in farmers fields, gathered for food around fires, made music, read verses and paused for performances in village halls. We arrived in Rothbury on Friday 5th July where we celebrated the week over a final meal much music and a sharing circle. We said our farewells the following morning.
We paused in Rothbury for the weekend, with a performance at the Jubillee Hall, a story-walk up Lordenshaws and a family cycle ride.
Climbing Hedgehope was intense, but you can't stay cross with a hill for long. And thank you for the midgies for putting us in touch with our ancestors in their own way.
The connectedness of everyone in straggling lines over the hills will last in my memory for ever. What an arduous and oddly relaxing disciplined order you established…
Land Journey Participants, 2013
Week Two: The Cycle Ride
In Rothbury, we welcomed the energetic Emma Cockburn and Jemma Robinson from Sustrans who were to lead the cycling phase of the journey from Rothbury to Greenhead.
On Monday 8th July, we set off on the first leg of this journey, cycling with a group of school children to Bellingham. After this we were joined by a different group of children each day on the four sections of the journey. We made our way south along tracks and small roads through woods, valleys and open moor. The weather was hot and there was an electric atmosphere as we struggled up the hills, flew down them, rested and reflected with chatter and silence.
Again we helped the children to engage with the land, they were passing through, by telling tales that located them in the place and brought it alive. In the evenings we performed in village halls.
Brilliant work Emma and Gemma, making this happen!
A wonderful way to spend an evening in a swirl of imagined history, real landscape, magical stories and involved community.
Audience Member, Greenhead Village Hall, 2013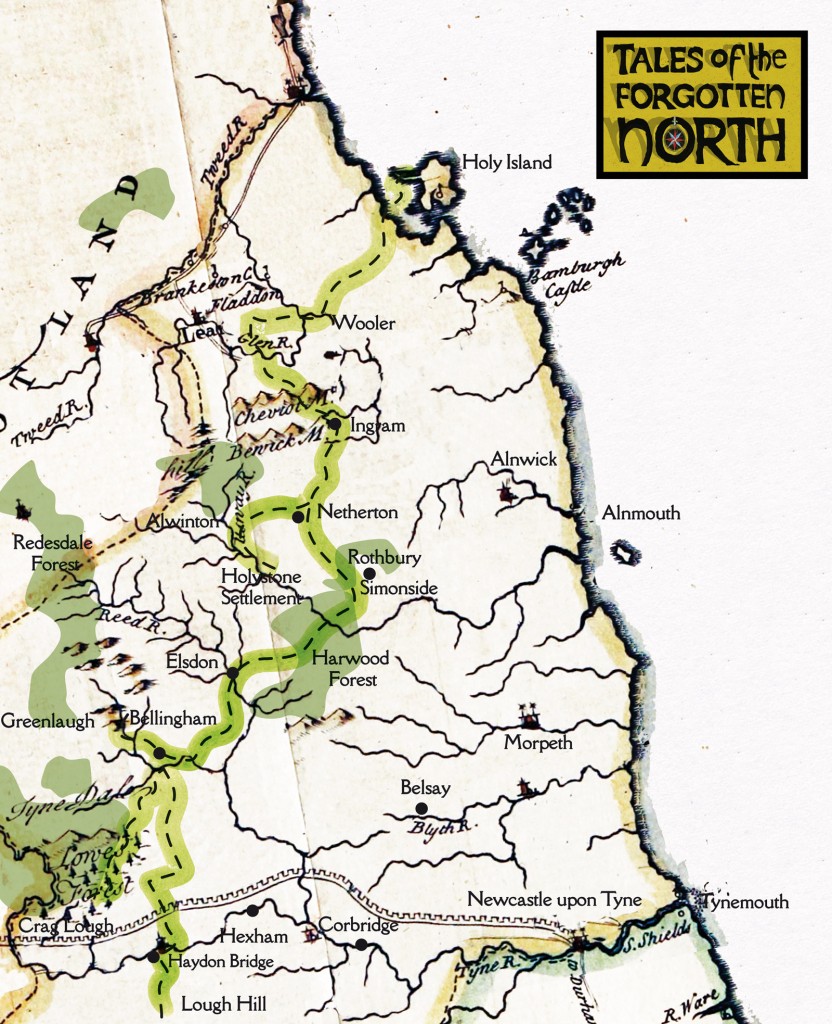 More…
More stories and detailed accounts of our 2013 journey will be found on our blog.