Reflection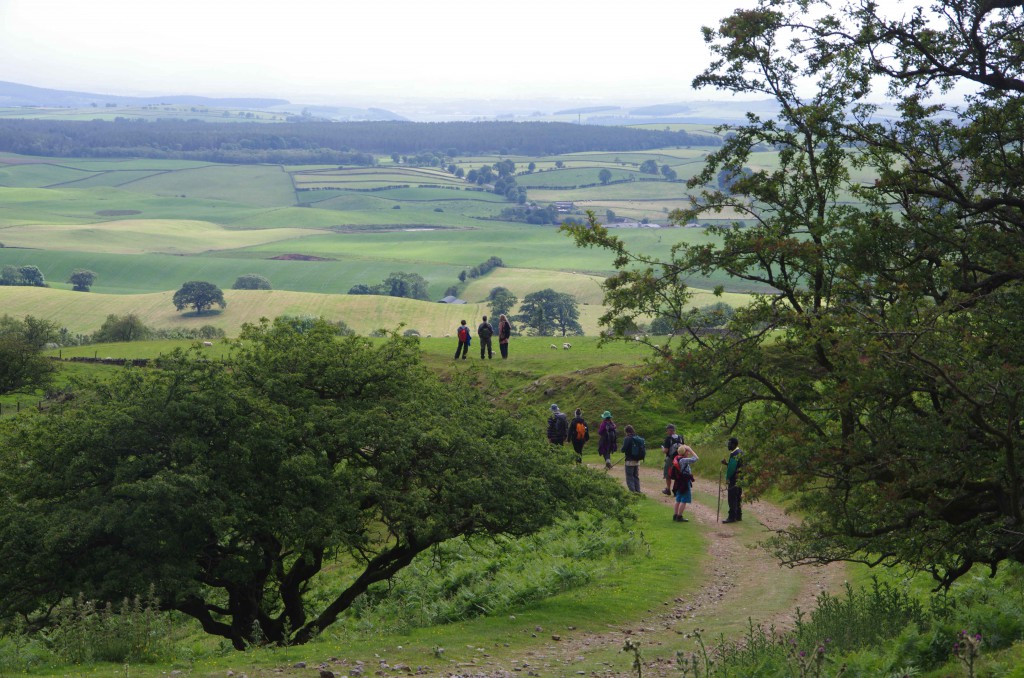 A quiet word with the yew
A line drawn on cloth
And the journey unfolds
We walked, we talked, we shared, we swam, we made music, we told stories and we camped in amazing places. The rich company and the landscape opened us up in ways we could not have imagined.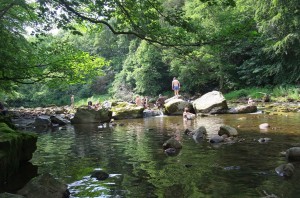 Sunshine through my dad's old canvas
Waking in green light
The morning, amazing
Woken by the sweet sound of the bell
No cars or TV
We saw both moorland and woodland birds in abundance, many still feeding their young. We were graced with curlew chicks, redstarts darting in and out of their nesting holes and a dunlin displaying on the moors above Alston.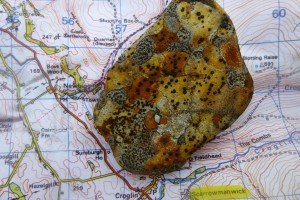 A curlew quilts the sky with sound
Before diving like a needle into the grass
We start
And stop, startled by a restart
Each start a tail ending
Ruth, a North Pennines AONB botanist, showed us some of the extraordinary plants on the Scarrowmanwick moor, whilst around us the wild open landscape unfolded minute by minute. We  saw 'ghost' trees which had  been stripped bare of their foliage by caterpillars which had then covered  them in a blanket of fine, white silk.
The tightness of my soul unfolds
To rest in the cradle of the hills
We walked in blessed silence and we wrote verses and made things in response to what we had experienced. Lynne and Dwayne wove together their Welsh and Liberian voices to sing us songs that moved our hearts.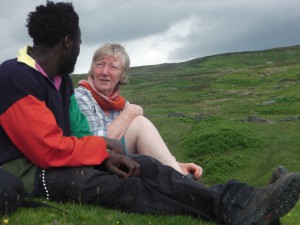 The drizzle mists my waterproof trousers
Nothing protects my soul
From the view
Sometimes we felt we had walked as far as our legs would carry us and still there was further to go. But at the end of each day there was always wonderful food prepared by our support team to make forgive and forget our aching limbs.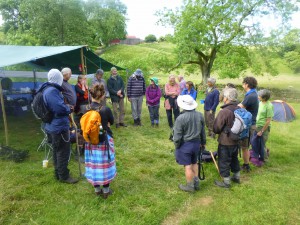 Head empty of thoughts, like these hills of reivers
Today I am tired
My feet plod on
Wet, wet, feet
Watching the mountains
Disappear into clouds
We were blessed with fantastic weather with only one shower in six days of walking. The midges graced us on a couple of evenings but good doses of 'skin so soft' kept them at bay.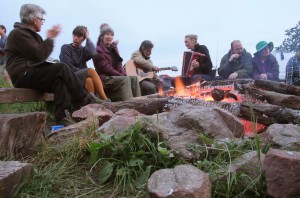 Golden tongues taste burnt logs
White ash spread on toasted earth
Elemental  breakfast
Audiences flocked to the village halls in good numbers to hear the stories of the ancient landscapes performed by A Bit Crack Storytellers.  The school children performed their versions of the tales with enthusiasm and gusto, displaying gorgeous pieces of artwork to accompany them.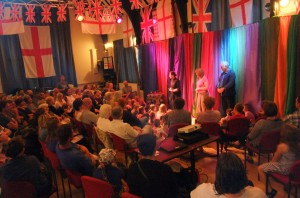 The peat keeps many secrets in its humic heart
Memories of departed trees, growl of bear, howl of wolf
Reflecting on your oily dark secretions, I re-wild my soul
Some quotes from the walkers
It was just great to be walking and talking, singing and thinking in beautiful country and in good company!
I really enjoyed writing the renga's on the walk, also the cohesion that was created in the sharing circle in the morning and evening's.  I also loved walking in silence, the feeling of walking with people without talking was very profound for me.
The singing brought along by Lynne and developed by her with Dwayne illustrated the possibility of a spontaneous cultural exchange that can develop quickly when people meet with time, and stories to tell/discover and skills to share. Lynne was generous with her singing.
The whole week was very moving, and frequently my emotions were close to the surface. I feel I have made many lifelong friends. While the 'walk' may seem like a physical journey, the nature of the week was very much about being in the present, so much of the travel was internal.