A Bit Crack Storytelling promotes and celebrates oral storytelling for adult audiences in the north-east of England. Run by storytellers Chris Bostock, Malcolm Green, Claire Randles and Pat Renton to share our delight in stories. Through regular storytelling events, projects and workshops we create platforms for audiences to enjoy the wonder of listening to a story well told.
<!=========list Template=========>
Cracking On is an evening of discussion and exploration around a selection of stories. We welcome Zahra Afsah, teller of traditional Persian tales and anecdotes, who will be sharing 'The Mouse and The Girl', a traditional folktale originally from an ancient Sanskrit text, the Panchatantra. We are also honoured to have Penny Grennan, local storyteller […]
Find out more »
17
August
2020
7:30 pm - 9:30 pm
Stepping Out - The Singing Shoemaker and Other Stories with Ivanir Sibylla Hasson and Chris Bostock Ivanir hails from Norway tells from there The Singing Shoemaker - a traditional Jewish story from Lithuania as well a story of the farmer who took her goats to The Garden of Eden. And Chris, a bit of a […]
Find out more »
04
September
2020
7:30 pm - 9:30 pm


With Chris Bostock
Northern Stage
Newcastle upon Tyne

Join Chris Bostock, The Storyteller, on the first Saturday of the month to hear some of the stories he has collected from all around the world. Be ready to travel to the bottom of the sea or even to the stars, to meet interesting people, wonderful animals and see extraordinary sights.
£4
Recommended Age: Children aged 4-8 and their families
Advance tickets available from Northern Stage
Access
Northern Stage is fully accessible. The theatre has three lifts providing access to all parts of the building, including the accessible toilets, baby changing facilities, stages 2 & 3 and the backstage area. Buggy parking is available within Stage 3. To discuss any access needs, please call the Box Office on 0191 230 5151.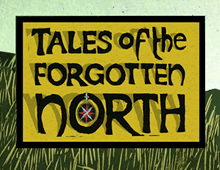 Film report of Tales of the Forgotten North



Here is our final film report for Tales of the Forgotten North. This film gives you an overview of our two years spent exploring Northumberland and the North Pennines, digging deep into the earths history and uncovering new stories shared along the way. For more in depth films of each year of our journey take a look at Dreaming the Land 2013 and 2014.
https://vimeo.com/129795615

News from A Bit Crack Tellers

Northumberland Folk Tales by Malcolm Green
With illustrations by Rachel Edwards, this book brings to life the rich history of Northumberland Folk Tales.
More information here.