A Bit Crack Storytelling promotes and celebrates oral storytelling for adult audiences in the north-east of England. Run by storytellers Chris Bostock, Malcolm Green, Pascale Konyn and Pat Renton to share our delight in stories. Through regular storytelling events, projects and workshops we create platforms for audiences to enjoy the wonder of listening to a story well told.
Events coming up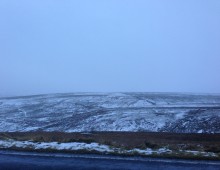 With
    Storytellers
       Various
Friday 6th January, 7:30pm
Cobalt Studio
10-16 Boyd St
Newcastle upon Tyne
Tyne and Wear
NE2 1AP  

What better way to bring in the New Year than sharing stories, songs, a joke or a poem with friendly …
Read More

The finest storytelling with live music for children between 2 and 6 with their family and friends
at
The Holy Biscuit, Newcastle upon Tyne NE2 1YH
December 22, 23, 24, 28, 29 at 11.00am and 2.00pm
Winning team of Storyteller Chris Bostock and Composer performer Ken Patterson and Designer Alison Ashton are back following their success last year with The Snow Bear.
Chris tells the charming story of little possum who collects starlight from the night sky. When his mother is ill, he is sent out alone into the big wide world to find his own food. Fortunately he meets helpful and friendly animals along the way, but lost in the dark he has to find his own way home again……. by starlight.
" A delightful tale for small children at this time of year. The children loved having their own starlight to take home too…"                   Audience Member.
More : www.chrisbostock.co.uk 
https://www.facebook.com/chrisbostockstoryteller
Tickets :
www.universe.com/chrisbostockstarlight

Film report of Tales of the Forgotten North

Here is our final film report for Tales of the Forgotten North. This film gives you an overview of our two years spent exploring Northumberland and the North Pennines, digging deep into the earths history and uncovering new stories shared along the way. For more in depth films of each year of our journey take a look at Dreaming the Land 2013 and 2014.
https://vimeo.com/129795615

News from A Bit Crack Tellers
Northumberland Folk Tales by Malcolm Green
With illustrations by Rachel Edwards, this book brings to life the rich history of Northumberland Folk Tales.
More information here.