'Travelling Together' with Amy Douglas
4th March, 2022 @ 7:30 pm

-

9:30 pm

£8.00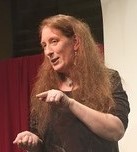 The unusual friendship between a Shropshire teenager and a Scots Traveller. Amy shares reminiscences of learning to drive, make pegs, drink special brew and coping with sleep deprivation alongside an ever-present flow of story, song and history. Amy Douglas remembers her apprenticeship with Duncan Williamson
This is the story of a young woman's quest for stories. It's the tale of Jack on an adventure. It's a story of truth and tradition, the power of fire and how stories are always relevant, because at their heart, people don't change. It's about endless cigarettes, special brew, learning to drive and hunting limpets. It is the story of an unlikely friendship and how a Shropshire teenager learned to drive chauffeuring a Scots Traveller to the pub.
After winning 'Young Storyteller of the Year' at 16, Amy Douglas apprenticed to world-renowned traditional Scots Traveller storyteller and ballad-singer, Duncan Williamson, and now holds many of his stories and ballads in trust. Over the past three decades, she has been instrumental in the modern British storytelling landscape as performer, promoter and advocate. An award-winning author and storyteller, Amy is passionate about the importance of the oral tradition.
Amy inherited a treasure trove of reel-to-reel recordings of Duncan. She has been awarded an Arts Council England grant to digitise, study and pass on those stories, taking them out into the world once more – celebrating both Duncan as a storyteller and the wealth of material he collected.
We're attempting to zoom again, with revised hardware. We're providing this link free, as things are still experimental but donations are welcome, via the button above, or our Go Fund Me page
Join Zoom Meeting:
Meeting ID: 850 8766 4235
Passcode: 217452