Sef Townsend: Tales of the Levant
6th March, 2020 @ 7:30 pm

-

10:00 pm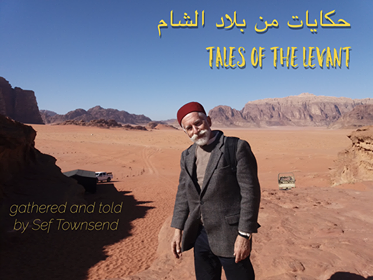 For thousands of years the Levant has been a place of the crossing of cultures. 
Muslim, Jew, Christian and Druze, or the ever inscrutable Samaritan have shared stories here. At campfires, or in the many fabled caravanserai, from Jerusalem to Baghdad, or from Aqaba to Damascus travellers, pilgrims, merchants and soldiers have come together to bring, share and tell each other's stories which have survived for generations.
Sef

 brings a veritable caravan of stories gathered from his many years of visiting these fascinating lands; stories of liars and thieves, of magical transformations, of witty wives and brow beaten husbands, all accompanied by well-loved songs of the darlings and divas of the Middle East.
Sef

 draws on his personal experience of living and working on all five continents; and on reminiscence and language support work in immigrant and refugee communities to inform his storytelling.
He has devised and presented several radio programmes on traditional music and oral history including programmes for BBC Radio 3, Spectrum Radio and Radio 4's "Woman's Hour"